WE TALK MARGIELA WITH 1STDIBS
Dickson Wong from 1stDibs talks to Resurrection co-founder Katy Rodriguez about collecting Margiela and the new documentary.
MARTIN MARGIELA: AN INTIMATE LOOK AT THE DESIGNER AND HIS SURREAL FASHIONS
In a recently released film, the elusive Belgian designer reflects on his time in the fashion world and his avant-garde creations, which have become coveted collector items.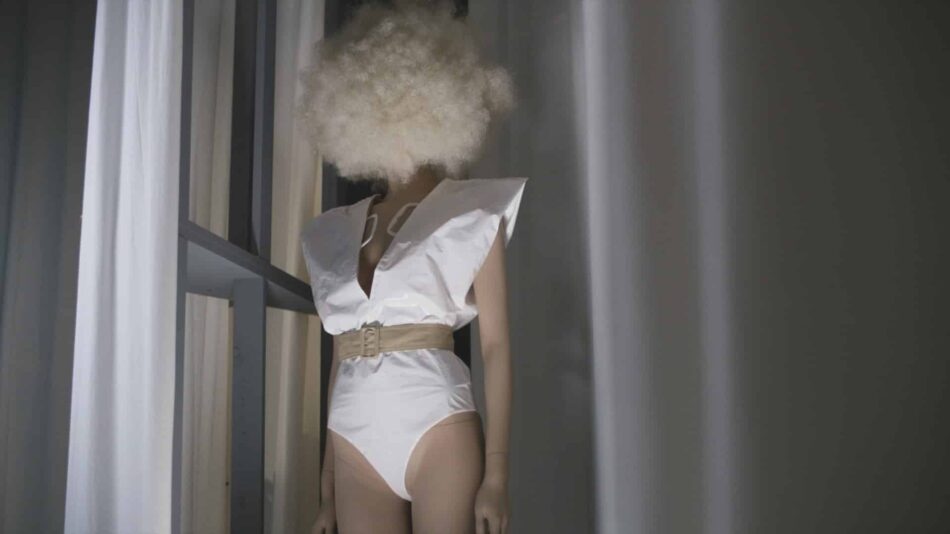 At his final runway show, a retrospective of his greatest hits that took place in October 2008, the elusive Belgian designer Martin Margiela left a note on every seat that read: "Twenty years, forty shows, hundreds of garments, what is there left?"
It was a fitting farewell bow for the notoriously private designer, who, having made a point of never attending his own shows, retired from fashion the following year without fanfare.
"He's not like other designers," says Gregory Chester, a collector of Margiela's early pieces One of a Kind Archive, a vintage boutique in London and a 1stDibs seller. "With some designers, you can just pick collections and say that was your favorite period. But with Margiela, it was the span of his whole career. There's not one moment that was less than, because it all felt relevant and right for the time it was made. He was always so ahead."
Until recently, Margiela had remained in the shadows since his departure, eschewing the industry's relentless spotlight on personalities just as he did during his 20 years in fashion.
However, the recent film In His Own Words, by director Reiner Holzemer — who also created Dries, featuring another Belgian designer, Dries Van Noten — pulled him back into the fashion penumbra, offering a rare intimate look at his life, career and clothing designs that have become cult-collector obsessions.
True to form, Margiela's hands, never his face, are all that is shown of him throughout the film.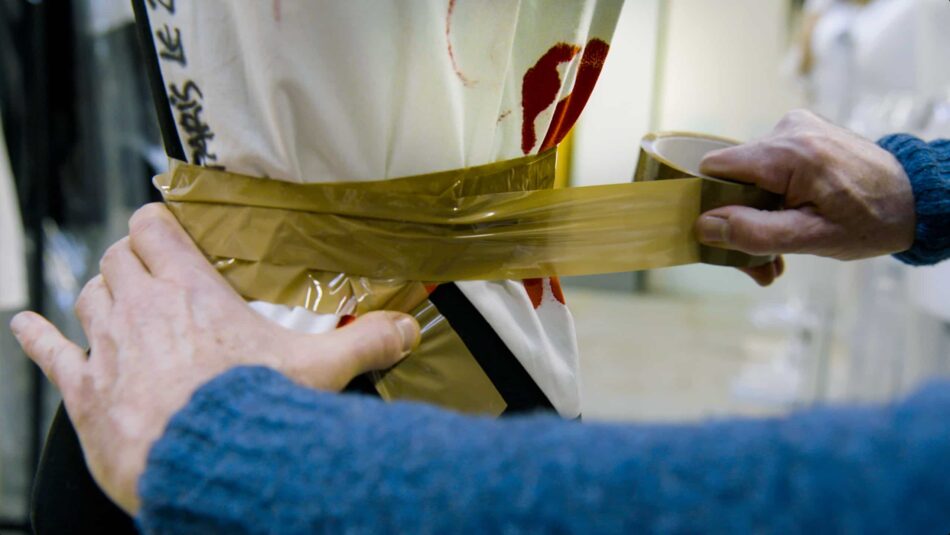 Born in Genk, Belgium, in 1957, Margiela knew he wanted to be a fashion designer after catching glimpses of Parisian fashion on TV as a child. Although his parents discouraged this career choice as an oddly funny aspiration, Margiela enrolled in the fashion program of the Royal Academy of Fine Arts Antwerp.
There, he befriended and graduated a year ahead of the Antwerp Six — the acclaimed group of Belgian fashion designers comprising Dries Van Noten, Walter Van Beirendonck, Ann Demeulemeester, Marina Yee, Dirk Bikkembergs and Dirk Van Saene.
Like many of his contemporaries in the 1980s, Margiela understood Paris fashion but felt a deep resonance with the deconstructed beauty espoused by Japanese designers Yohji Yamamoto and Rei Kawakubo, of Comme des Garçons.
His fascination with Japan influenced many of his earliest collections and designs, from a dress pieced together from broken plates to his iconic Tabi boots, inspired by the split-toe Japanese worker's shoe, which dates back to the 15th century.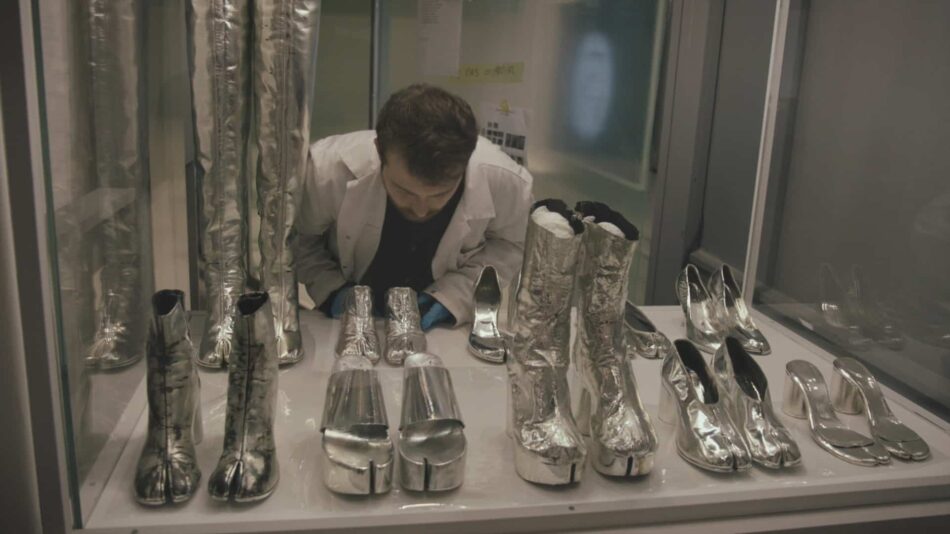 He decided to launch his own line while working for renowned Paris designer Jean Paul Gaultier. Margiela, Gaultier has often stated, was his best assistant. Even then, the film suggests, he was acutely aware of the widening gulf between the art and the business of fashion.
"Everybody wants a boy wonder," says Katy Rodriguez, cofounder of the cult vintage fashion shop Resurrection. "Everybody wants this lone genius, this person that came out of nowhere. It's just not reality. That's the myth, whether it's an artist or a fashion designer, and I think Margiela really played with a lot of those myths."
Margiela's debut show, in 1988, was nothing short of spectacular. Set in a packed Café de la Gare in the still-seedy Marais district, it was also scandalous to the Parisian fashion set of the time.
Margiela tore up the conventions of contemporary couture presentations, most notably having his models, plucked from the streets and wearing ink-blotted Tabis, wend their way through the crowd.
The show redefined the concept of the runway in a way that would later inspire such designers as Alexander McQueen and Demna Gvasalia.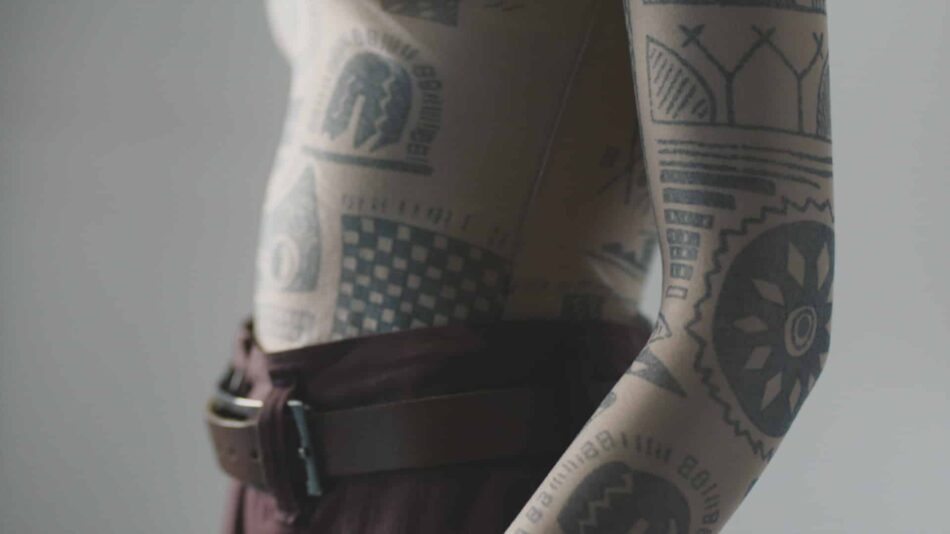 Doubts about Margiela's vision for his own house — and there were many — were laid to rest with his Fall/Winter 1989 show. He sent out 500 invitations, all hand-drawn by kids from a school in the 20th arrondissement in Paris and accompanied by directions to the local playground, a derelict, graffiti-walled wasteland with an uneven surface that the models swayed and swaggered across.
There for his first-ever fashion show was the designer Raf Simons — then still an intern for Walter Van Beirendonck — who recalls being moved to tears.
"More than any pieces in particular, there was a disruptor element in his presentations and designs, from the role of the model to the catwalk to what couture is," says Miguel Lopez, co-owner of Sui Generis. "He was a true artist."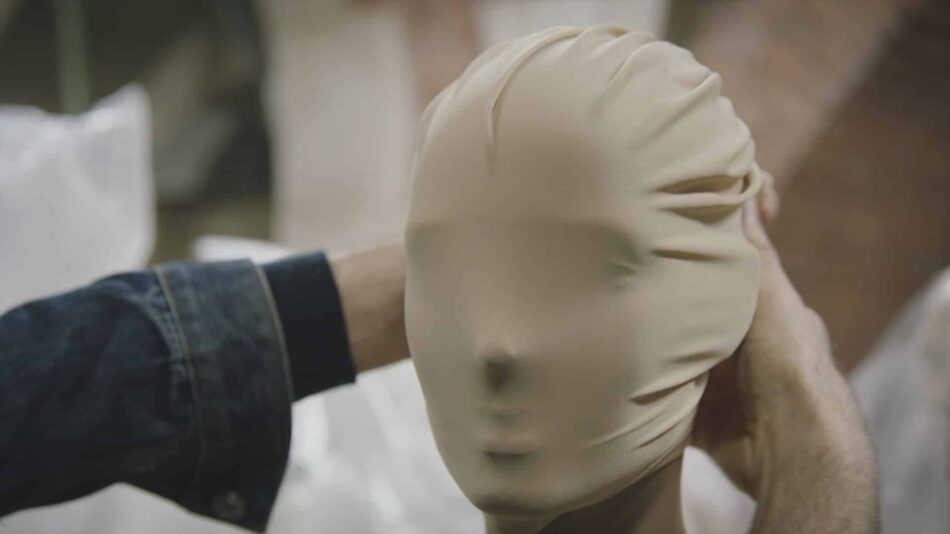 Margiela pushed those who attended his shows outside their comfort zones. In the years following his debut, he toyed with creative and aesthetic paradoxes that persist in fashion today.
Consider the Spring/Summer 2001 shirt patchworked from vintage clothing labels, or his famous corset dresses made from tailoring dummies, from his Fall/Winter 1997 line. Or his oversize collection for Fall/Winter 2000. "He did everything in size 78 Italian, so it was like oversize jeans with a huge coat," says Chester.
Several years ago, One of a Kind Archive acquired a design from the collection from an unexpected source — "a man who was literally a size 78. He didn't buy it because it was oversize, he bought it because it fit him, which was quite cute," recalls Chester. "A lot of the pieces we collect, especially like the oversize collection, were never really sold at the time. Now, people are searching the globe for them."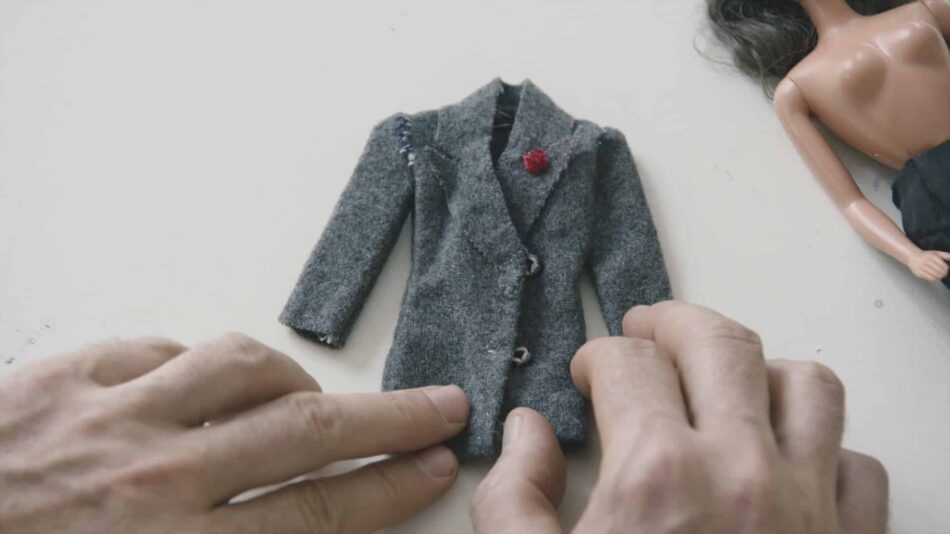 In 1992, Margiela told Dépêche Mode magazine, "My clothes appeal to women of a certain mindset rather than of a specific age or physique."
For many Margiela collectors, his pieces capture the irreverence of the postwar, post-punk late 1980s and '90s. Rodriguez is among those who felt a connection to Margiela's clothing in the subliminal challenges it posed to the time's beauty norms.
"Growing up in San Francisco and coming out of the end of punk rock, not wanting to be objectified, not wanting to be seen as a sexual object, not wanting your value to be just because you're pretty — all those clothes played into all of that," she says. "It really was a reflection of the kind of world the young people I knew at the time wanted to live in."
One of the most notable Margiela collectors during the late '90s and 2000s was the late Marcia Berger. The independently wealthy New Yorker was, like him, a loner and equally secretive. Rodriguez, who handled Berger's estate, describes how Berger would go to Barneys and other stores that sold Margiela and buy his pieces.
"That was her social life," Rodriguez says. "The interesting thing was that she never really wore the clothes. She just bought thousands and thousands of pieces. When she died, we went to her place, and everything was in boxes. It was like she was just living among this massive collection of things."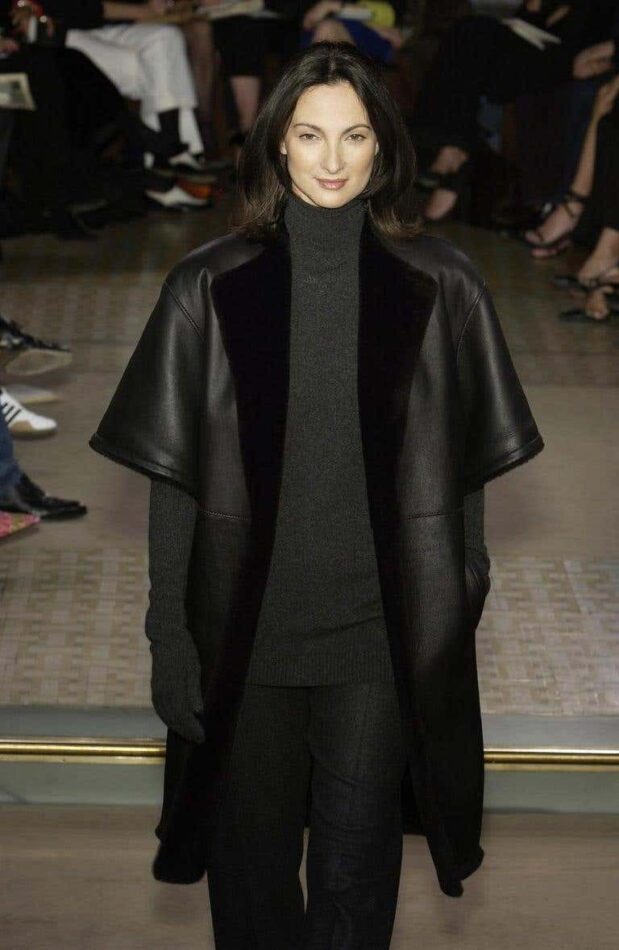 In 1997, at the age of 40, Margiela took the helm at Hermès as creative director of the house's women's ready-to-wear department. His creations for the storied French brand reimagined luxury for the modern women. His work also provoked criticism among critics for its simple, tailored lines.
"It's what luxury at its highest should be, in my opinion," says Chester. "It wasn't overdesigned. It was so rich, but it wasn't in your face. You could walk down the street, and only a few people would know what you were wearing. It's the best Hermès has ever been, and I want Hermès to be like that now."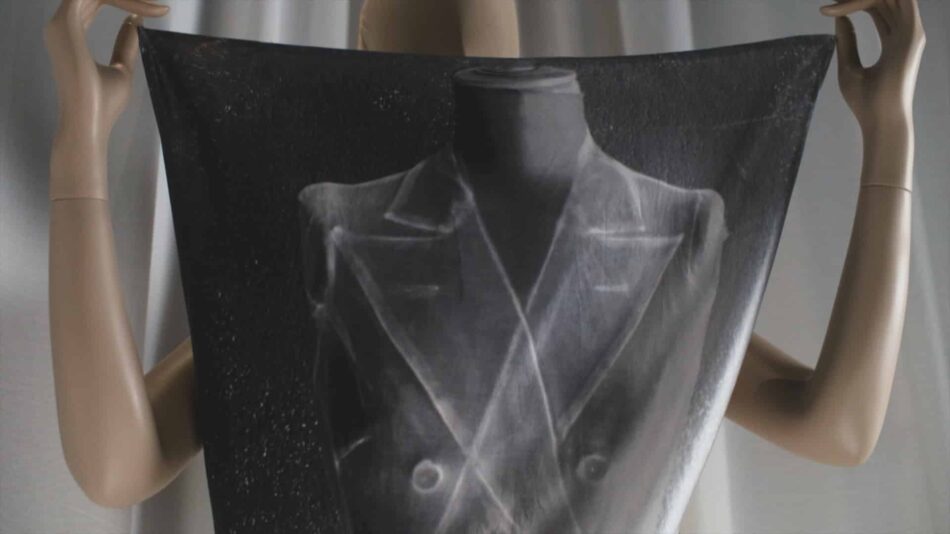 In a 2008 review of the fashion designer's last official runway show, New York Times men's fashion correspondent Eric Wilson aptly dubbed Margiela "Fashion's Invisible Man."
Nevertheless, the designer's influence throughout fashion remains massive, if hard to define even for the most astute fashion scholar or devoted cult collector. Because to talk about Margiela is to unravel the entire myth of fashion itself.
"It's hard to pinpoint what it is about his designs," says Chester. "The handmade quality and his references are very discreet. They feel nostalgic, but you don't know why."
Adds Rodriguez, "A lot of young people talk to me about what they want to do, and it's a completely different ethos. It's like you want to make something out of something, not make something out of nothing. The Margiela era was to make something out of nothing. That's what he did."

Leave a comment